Select a tool (click on the icon) & click on the map:

Identify

Zoom In
Zoom Out
Recenter
Tag map
Help
Support OASIS!
miles :Map Width
Information above should be verified with data source.
Developed with ESRI's ArcIMS technology and Microsoft SQL Server.
Selected NYC Basemap layers provided by NYC DoITT (copyright NYC DEP, 2000).
The Bytes of the Big Apple (TM) PLUTO (TM) and Tax Block & Tax Lot files are copyrighted by the New York City Department of City Planning (2007 Release 07C).

Photos & Imagery (view 1 at a time)

Aerial Photo (2004)
(more info)

Aerial Photo (1996)

Infrared Aerial Photo (2001)
Classified Landcover (2001)

Boundaries & Labels


Town/Neighborhood
County / Borough

Waterbody Labels

Community Districts
City Council Districts



Transportation

zoom in/out Streets


Highways / Major Roads

Subway Stations
Subway Routes
Ferry Stops

Ferry Routes
Parks, Playgrounds, & Open Space
NYC Parks (Dept. of Parks & Rec.)
New Jersey State Parks & Public Land
New York State Parks & Public Land

Open Space (Dept. of City Planning)
Community Gardens
Playgrounds

Green Spaces Along Streets
Golf Courses


Baseball/Soccer Fields


Tennis/Basketball Courts & Tracks


Cemeteries



Property & Land Use

zoom in/out Block/Lot Boundaries
zoom in/out Buildings
zoom in/out NYCHA Properties

Schools
Historic Houses

Green Markets
zoom in/out 1 & 2 Family Residential
zoom in/out Multi-family Residential
zoom in/out Mixed Use
zoom in/out Commercial
zoom in/out Institutions
zoom in/out Transportation & Parking
zoom in/out Industrial
zoom in/out Vacant Lots

Trees

Greening for Breathing Trees
Neighborhood Trees

NJ Forested Areas
Environmental Characteristics
Comprehensive Restoration Plan

Comprehensive Restoration Plan


HEP Acquisition Sites


HEP Restoration Sites


Living Memorials to 9-11-2001


Stewardship Organizations


Stewardship Spheres
Coastal Storm Impact Zones


Superfund & other remedial sites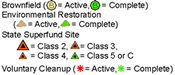 Natural Areas
Forever Wild Sites

Wildlife Refuge

Federal Land

Water & Wetlands
Waterfront Access Points



Beaches

Aquifers


Freshwater Wetlands
Natl. Wetlands Inventory

Tidal Wetlands